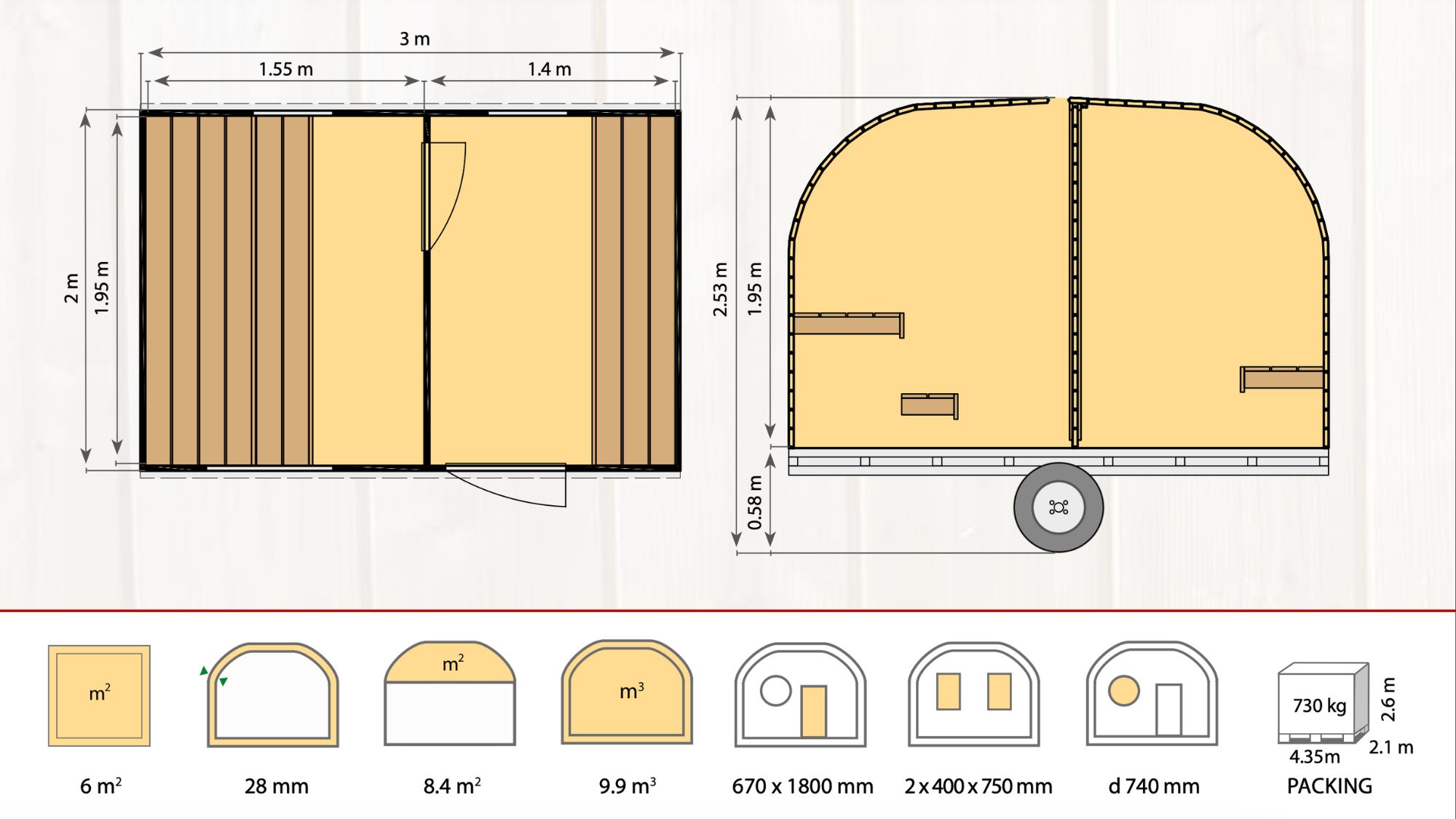 The trailer Sauna offers true freedom to enjoy the pleasures of a sauna anywhere, whether it's at the beach, by a riverbank, in a summer cottage, or at a friend's place. The sauna includes a steam room and a front room for relaxation and comfort. The two-tiered bench comfortably accommodates three people. While relishing a relaxing steam, you can also savor the view through the sauna room's windows. The sauna is equipped with a wood-burning stove as its centerpiece, but it can be replaced with an electric heater if desired.
The trailer is certified and meets the requirements for unbraked trailers up to 750 kg, requiring only a B-category driver's license. The weight of each trailer is verified and registered by Metrosert.
When quality matters
Arctic Finland House has manufactured garden houses since 1996 and during these years all of our products have been developed based on our customers's feedbacks. We combine unique, modern and quality in the same product.
The Trailer Sauna comfortably accommodates up to 4 people.
Walls: Constructed from 19 mm thermally treated softwood.
Abachi Wood Bench: The sauna features a bench made from thermally treated Abachi wood.
Stainless Steel Fittings: Equipped with stainless steel elements.
Tempered Safety Glass Door and Windows: The sauna has tempered safety glass doors and windows.
Roof Covering: The roof is covered with PVC material.
Exterior Finish: Exterior painting is available as an option.
Heating Options: You can choose between a wood-burning stove and an electric heater.
Waterproof Plywood Floor: The sauna has a waterproof plywood floor.
Two-Tiered Bench: Inside, you'll find a two-tiered bench.
Floor Drainage: The floor includes a drainage channel with an outlet.
Dimensions: The exterior dimensions are 2.08 x 4.31 meters, with a height of 2.53 meters. The sauna room's interior dimensions are 1.94 x 1.55 meters, with a height of 1.9 meters, and the front room's interior dimensions are 1.94 x 1.36 meters, with a height of 1.9 meters.
Frame
Wall elements
Roof and floor material
Windows and sliding doors
Installation accessories
Instructions